What is Hair Mesotherapy? Mesotherapy is a technique that uses injections of vitamins, enzymes, hormones, and plant extracts to rejuvenate the skin and tighten it, removing any excess fat in the process. This technique was developed in 1952 by French doctor Michel Pistor and was originally used to relieve pain, though now the procedure is used to do a number of things, such as: remove fat in areas like the stomach, buttocks, thighs, hips, face, arms, and legs. It is also used to reduce cellulite, fade wrinkles and lines, tighten loose skin, recontour the body, lighten pigmented skin, and treat alopecia, a condition that causes hair loss.
Hair Mesotherapy Explained
The technique uses very small needles to deliver a series of injections into the head, patients who have had mesotherapy done to treat hair loss claims that it corrects hormone imbalances in and around the hair follicle, delivers nutrients to the hair, and improves blood circulation. However, just as with other uses of mesotherapy, it has not been proven that it works for hair loss. In fact most of the substances that are injected haven't been shown to regrow hair. It is also worth noting that the Federal Drug Administration (FDA) has not approved this method of treatment of any indication.
This treatment is used to bring skin cells closer together, where some spots of hair may look patchy, treatment using mesotherapy will tighten the skin, bringing the hair follicles closer together and making the head of hair look much more full. Mesotherapy has not, however, been known to treat the loss of hair. It can be used to prevent hair loss, improve the quality of existing hair, and activate new hair growth. Mesotherapy treatment can be applied to the scalp and is one of the most effective known drug treatments. This is because the small amount of medication causes little to no side effects on the patient. A period of six weeks is typically when the recipient will start to notice the effects of the therapy such as fewer hairless patches and a thicker looking head of hair. Mesotherapy has been shown to be more effective for females. This is because the patient's that typically look to mesotherapy for hair treatment are pregnant women, breastfeeding women, cancer patients, people with diabetes, patients with an immunological disease, and those who have anticoagulant therapy.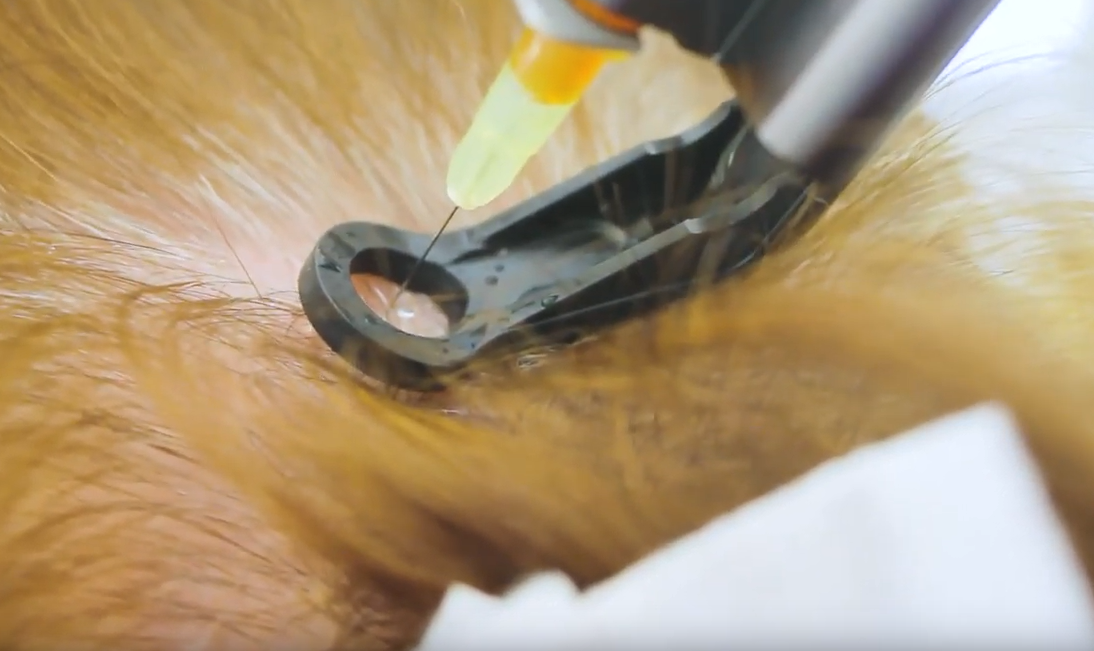 Does Mesotherapy help stopping hair loss?
As of currently, the debate for whether or not mesotherapy can prevent hair loss or not is still controversial, as some studies have shown that it does not prevent hair loss, but instead just makes the skin tighter in certain areas; though other studies of patients who struggle with hair loss who have tried mesotherapy have said that it has helped and the results were almost immediate. However, mesotherapy is a specific kind of treatment that is used for treating female and male pattern baldness. It regulates growth factors, hormones, proteins, and vitamins in the scalp, while also making the skin tighter. The therapy is an undoubtedly a quick way to restore hormonal balance and produce fast results, though for how long or how often you have to make the injections afterwards is still unknown.
According to several articles and studies it doesn't really seem like one for sure thing can be said about the practice of hair mesotherapy. Some studies say it is completely safe and very effective while some others will say it is not. In a study, it refers to the effectiveness of mesotherapy and some of the advantages being that it is completely safe, does not require the use of anesthesia, minimizes side-effects such as allergies and drug interaction, ensures a faster recovery, and that it is virtually painless. For treatment, patients come in once a week. Once the patient starts to notice improvements, the treatments are given less and less until the patient reaches their desired amount of hormonal balance. Mesotherapy for hair loss is a near painless treatment that has been shown to treat Alopecia patients, with little to no complaint about the pain of treatment.
From prior studies, it can be concluded that the use of mesotherapy in pattern of hair loss is as follows. Data on its safety and efficiency in pattern of hair loss have not been adequately evaluated or documented in proper, reviewed clinical trials. Data evaluating the rational or pharmaceutical of the combination of herbal and allopathic medicines used are not adequate. There are no clear-cut guidelines that prove the guidelines and efficiency of the products. Furthermore, mesotherapy is not an entirely safe technique and can give rise to complications later on down the road.
Mesotherapy for Hair Growth
Mesotherapy usage as of 2019 has been having a drastic increase in popularity, the cosmetic hair growth treatment seems to be the fastest and easiest route in terms of getting the results you want. The science behind the treatment essentially is that a primary loss of balding in both males and females can be caused by an imbalance of hormones around the hair follicle, lack of proper nutrients, and reduced blood circulation to the scalp. For hair restoration, mesotherapy solution injected into the scalp contains a combination of chemicals, vitamins, nucleic acids, and coenzymes, tailored specifically to the patient's unique requirements. This treatment is meant to restore hormones at a gradual pace and is used less and less as the patient starts seeing the results as they see fit.
Treatment protocol for mesotherapy can vary from patient to patient, though appointments can generally take ten to thirty minutes depending on how large the area requiring treatment is. Generally, a minimum of ten sessions is required to prepare the scalp in order to stimulate hair growth, beginning with treatments every two weeks for the first two to three months, afterwards it's possible to decrease the frequency of appointments depending on the individual patient's progress and how they'd like to continue with it. Some patients can expect results in the first few weeks, though in other more severe cases of baldness and hormonal imbalances, some may not get the results they want until two months later. It can take up to sixth months in total for the complete effects of the treatment to kick in.