Hair transplant surgery has come a very long way from where it began. It has gone from the 4 mm wide crafts of yesterday to the under 1 mm grafts of today. The world keeps on moving, and so does science and knowledge. Technology never stops advancing, meaning improvement just keeps coming our way. New and better ways for transplanting hair are emerging. So, where exactly did this golden business of hair restoration all begin?
Hair Transplant History
One of the first hair transplant surgery was performed in New York in 1952 by Dr. Norman Orentreich. It took a few years for his paper to finally get published. He created the term "Donor Dominance" to describe a certain phenomenon in the hair transplantation world. It basically explained the hair follicles will retain the characteristics it had in the area that it was taken from. The area in the back of the head is resistant to balding, making it the perfect candidate for hair transplantation. In the back of the head, there is thick healthy hair that doesn't thin as easily. When it is transplanted to another area on the head, it keeps the characteristics of the place it came from. This is why transplanted hair does not thin out in balding areas.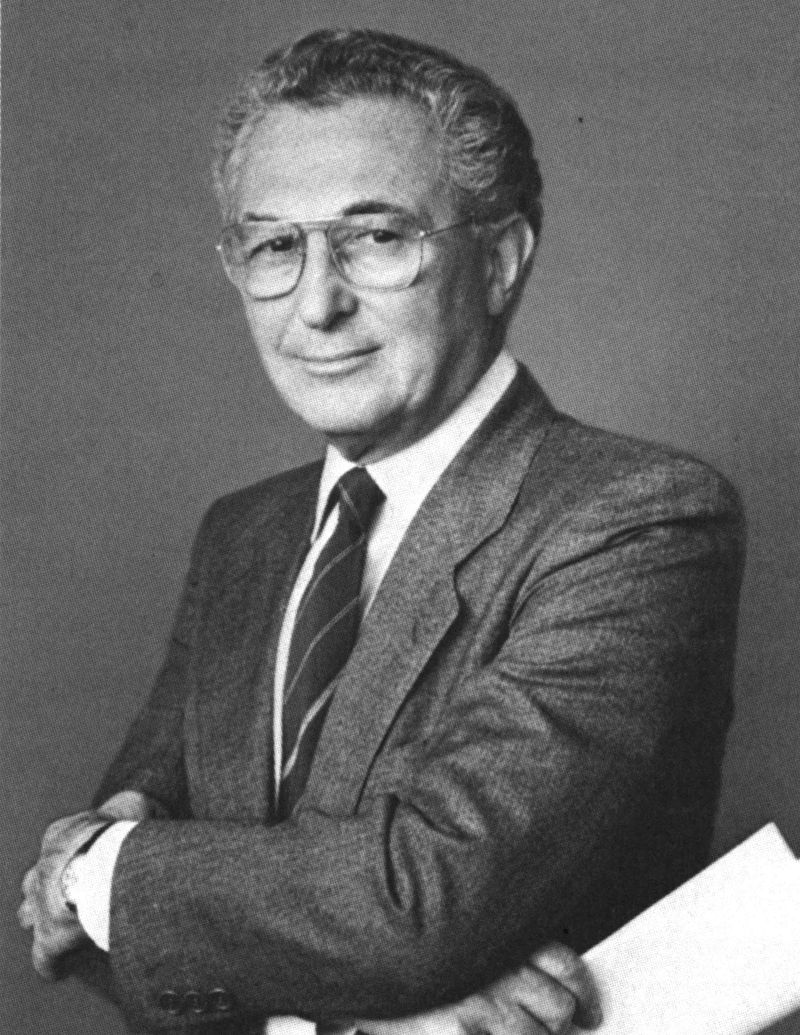 Large hair grafts, known as "hair plugs" were used for many years. There were about the width of a pencil eraser. In 1984, a new technique emerged for hair transplantations. This technique was called "mini grafting." Mini grafting was when smaller pieces with three hairs were cut from a removed strip of donor tissue. There was also a technique called "micro grafting", in which even small grafts were harvested. There was a procedure that could be performed that used both of these methods of collecting and transplanting grafts. This procedure was called "Mini-Micro."
In 1995, Dr. Bernstein and Rassman discovered a new way to transplant hair. It was called Follicular Unit Tranplantation, or FUT. This new technique used what Dr. Rassman called follicular units, which he discovered in 1994. Follicular Units are naturally occuring section of of four hairs. During an FUT procedure, follicular units are collected from a strip of donor tissue and used for transplantation. This method greatly improved the results of hair transplant surgeries, though it was originally met with skepticism. After being reluctantly adopted by physicians, it became the "golden procedure" for hair restoration.
Soon, another technique began to arise. This technique was referred FUE, or Follicular Unit Extraction. This new technique collected the follicular units right from the scalp rather than extracting them from a strip of donor. The FUE technique was not introduced until 2002 when Dr. Rassman and Bernstein began working on it.
The earliest known hair transplant that was documented was performed by a teacher and his student in Germany. Though this procedure had taken place in 1822, the idea of hair transplantation did not come up again until the 1900's. The beginning of modern hair transplant surgery began in 1939. It was developed in Japan to restore hair loss in areas that had been injured or burns. Patches of skin with follicles of hair were taken from one place of the head and moved into holes in the injured areas that had lost all the hair. The more advanced hair restoration techniques become, the smaller the grafts become.
Turkey #1 in Hair Transplant Surgery
Nowadays, hair transplantation surgery is most popular in Turkey, the United States, and India. But most people from all around the world go to Turkey for the procedure, as they have superior service, pricing, and technology for the needs of the patients. There are many reasons why people prefer to go to Turkey to get their hair transplants. First of all, hair transplant surgeons in Turkey are very qualified for performing these procedures.
The cost of hair transplant surgery is also much more expensive in other countries, so people go to Turkey for their more affordable prices. In the USA and Europe, the most common practice for hair transplantation surgery is using the traditional FUT that leaves a large scar where the donor tissue was cut away. But in Turkey, they use more modern and effective methods for transplanting hair. Ones that leave smaller scars, or no scars at all!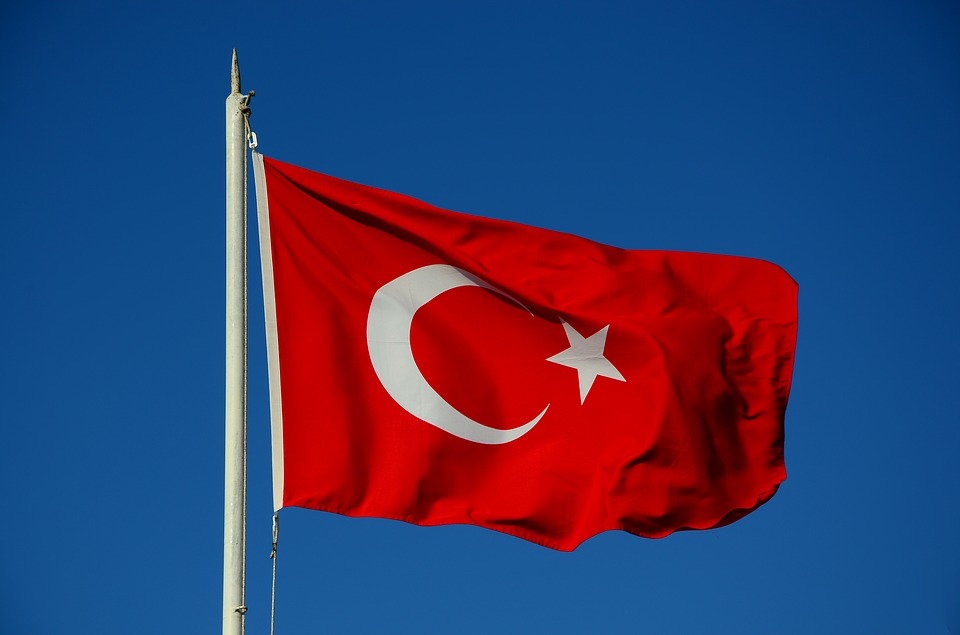 And yet there are still more benefits to receiving a hair transplant in Turkey. There are even packages that can be attached to your surgery that include hotel accommodations and much much more to make the whole experience more pleasant. The competition in the hair restoration industry is booming and patients are well taken care of. Turkish hair surgeons also have more experience with all types of hair of different textures and thicknesses, making their procedures all the more successful. And there are over 500 hair restoration facilities in Turkey, meaning there are plenty of options to choose from.
Robotic FUE by ARTAS
Along with these new methods of hair transplantation, there is another rather impressive way to restore hair. This new method is called Robotic FUE. This is a technique of hair transplantation that is performed in part by a robotic system known as the ARTAS robotic system. This new method of hair transplantation greatly reduces the chance of scarring, improves the results of transplantation, and removes the risk of human error. With the help of the robotic system, hair follicles can be extracted and inserted more accurately and the death of roots becomes even less likely.
Hair Transplant Process
The basics of modern hair transplants are as follows; people ages 20 to 60 may undergo a hair transplant surgery. The person who will be undergoing the surgery will only need 3 days to prepare for it. Although it depends on how many grafts will be used, normally the surgery will last 6 to 8 hours. In order to respond properly to any possible complications, the surgery must be done in a fully equipped and sterile medical facility. This surgery is performed with a doctor and at least 3 medical technicians. It can take 6 to 18 months to see the finale outcome of hair growth.
The stages of the transplant process are split up into a few parts. First, there is consultation. This is when the doctor makes the patients operation plan and creates the hairline design. Then there's preparation, this incorporates the process of cleaning the operation site and the application of the local anesthetic. Next is extraction, when they begin extracting the hair grafts from the donor area; and recipient site creation, the process of creating the patients sites by following the existing terminal hairs.
Afterwards, there's transplantation, the process of placing the hair grafts in the patients sites at the correct angles. Finally, there's postoperative process, this incorporates the process of wound dressing for the sites where the operation took place and PRP therapy to speed up the healing process. Postoperative care and hair washing, the washing process that is to be carried out for the next 15 days. Both the donor and transplant sites will be very sensitive during this time so it is important to be careful when washing them.
This treatment is said to be completely painless with the use of sedatives before they give you the local anesthetic. You don't have to be sedated if you prefer not to, the option is there for those who have a fear of needles and was meant to make them more relaxed and comfortable. The result heavily depends on what surgeon you go to. About 60 percent of men and 50 percent of women start balding.
The recovery time for hair transplant surgery is about 2 to 5 days, in 2 weeks or so the transplanted hair will fall out and in three to four months you should notice new hair growth, in 6 to 9 months most people will have regular hair and should grow normally. The average cost for these procedures depends a lot on how much hair is being transplanted, what type of surgery it is ( FUT: follicular unit transplant or FUE: follicular unit extraction) these two are the most widely known, what surgeon you choose, location, and travel costs.
FUT Hair Transplant
FUT or follicular unit transplant surgery involves removing strips of skin from areas that still grow hair. The cut is closed after and hidden by other hair. The stip that was removed gets cut into tiny pieces with only a few hairs on each piece which then get relocated to the balding areas. The problem with FUT is most people experience scarring and swelling around the donor site. This can take 4 to 8 hours. Read more about the FUT procedure here.
FUE Hair Transplant
FUE or follicular unit extraction involves shaving the back part of the head and then taking out singular hair follicles instead of taking entire strips. The places that the hair were taken from normally heal quickly and only small dots are noticeable and they're normally covered by other hair. This is a lot less invasive compared to FUT and has a smaller chance of having something go wrong. The hairs can be removed from more than one area as well. FUE is normally more costly than FUT and usually it is required to shave the whole head. However, it is also possible to have a FUE hair transplant without shaving.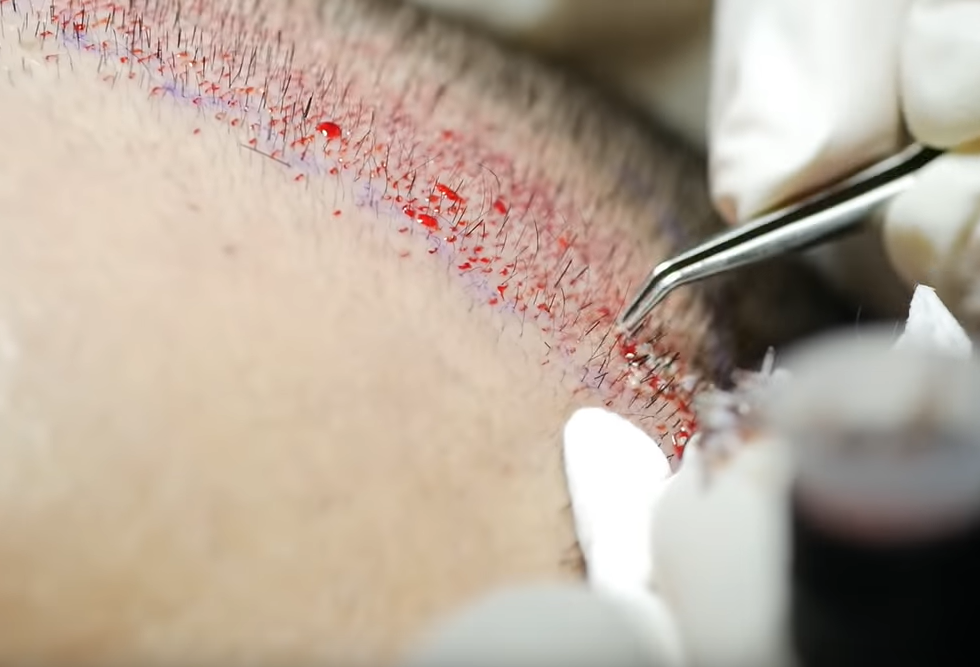 The scalp will be sensitive for a few days after the procedure so it is best to rest. You will have to wear protective bandages for a few days as well. The doctor might prescribe you pain medication and/or an antibiotic to help prevent infection or an anti swelling medication to prevent swelling. Ten days later they should remove remove your stitches. Most people say that six weeks after the surgery the hair will start to fall out and new hair growth should be noticed in a few months. There will always be risk and here they are: Infection, excessive bleeding, scarring on the head, bumps on the head, inflammation of the follicles, and unnatural patchy new hair growth. To read more about the FUE surgery, click here.
Alternatives to the Hair Transplant Surgery
Minoxidil(rogaine), this is available for men and women and you don't need a prescription.
Oral finasteride (Propecia), this is available for men with a prescription and may slow hair loss or cause hair growth.
Estrogen, Women who have hair loss may benefit from topical or oral estrogen medication.
Cortisone, Both topical and injectable Cortisone may speed up hair regrowth in some people.
Laser therapy, Low dose laser therapy can be used to treat genetic hair loss and pattern balding in both men and women.
Essential oils such as tea tree, rosemary or lavender in combination with carrier oils such as emu oil, jojoba oil, olive oil, coconut oil or black seed oil
Natural DHT blockers such as saw palmetto, caffeine or green tea
Proper hair care with a shampoo for thinning hair such as Alpecin, Ultrax Labs, Nizoral etc. and a boar bristle brush
More About Laser Therapy
It is the application of low level lasers, also known as cold lasers. The main objective of laser therapy is to speed up the healing process and to help reduce side effects like redness and swelling as well as pain. This procedure penetrates without heat and isn't painful at all. When treating hair loss they use a different type of low level laser and when it is applied to the scalp twice a week for 20 minutes normally the hair loss stops and with long term use it has been found to have a promoting effect on hair growth. After reaching a certain level of improvements it can be sustained by reducing the once twice a week to once a week.
Laser therapy is effective for men and women who have mild to moderate hereditary patterns in hair loss. It has also been observed that laser hair therapy reduces scalp tissue, which may help slow or even stop hair loss and even improve hair growth.laser hair therapy does all this simply by stimulating the follicles and increasing the blood flow to both the follicles and the surrounding scalp. Through this treatment you can reduce hair thinning and that has been proven by the FDA and there are several scientific studies that prove the effectiveness of this treatment. You can find more indepth information about laser therapy for hair loss here.
With the new technology in the hair restoration industry of today, it has never been easier to treat balding and hair loss. We have come a long way from where we began and we can expect to keep getting better and improving the lives of those who suffer from these issues. No longer will we have to simply deal with losing our hair, now we can do something about it. We have the skills and tools to someday make the loss of your hair a minor inconvenience. Hormonal imbalances and other things leading to balding and hair loss will soon be a worry of the past.
Considering a Hair Transplant?
With a number of cosmetic-surgical procedures that have become more accessible and affordable, having an appearance you have always longed for is now in your reach. Due to the fact that male-pattern baldness is one of the main aspects men would change about their appearance, it comes as no surprise that hair transplants have become such a popular procedure.
Below we have outlined some information on what hair restoration surgery is, how the procedure is done, and what is best practice when looking for a surgeon.
Hair transplants are described as a type of surgical procedure that involves re-establishing growing hair to areas that are bald. This type of surgery is popularly used in order to combat male-pattern baldness and is also used for hair loss caused from scarring.
During the hair restoration procedure, hair follicles are collected from an area that has bald-resistant, healthy hair. These follicles are then transplanted into the bald area. The area used to collect these follicles is usually taken from the back part of the head. This process involves removing a strip of the skin that contains these hairs. The scar left behind is often hidden by the creases on the scalp or from the regrowth from the surrounding hair.
The strip of skin is then divided into tiny pieces and then re-grafted onto the bald area. Today, more advanced procedures known as 'follicular unit exctraction' (FUE) involves taking out individual hair follicles as opposed to the strip. These follicles are removed with glands and their blood supply and then individually grafted on the bald areas.
This specific method does away with the substantial scarring used in older methods as well as offering a more natural and authentic growing pattern. Hair transplant surgery is conducted under a local anesthetic and around 2,500-6000 hair follicles can be re-established in one session (depending on whether everything is done manually or with the help of micro motors).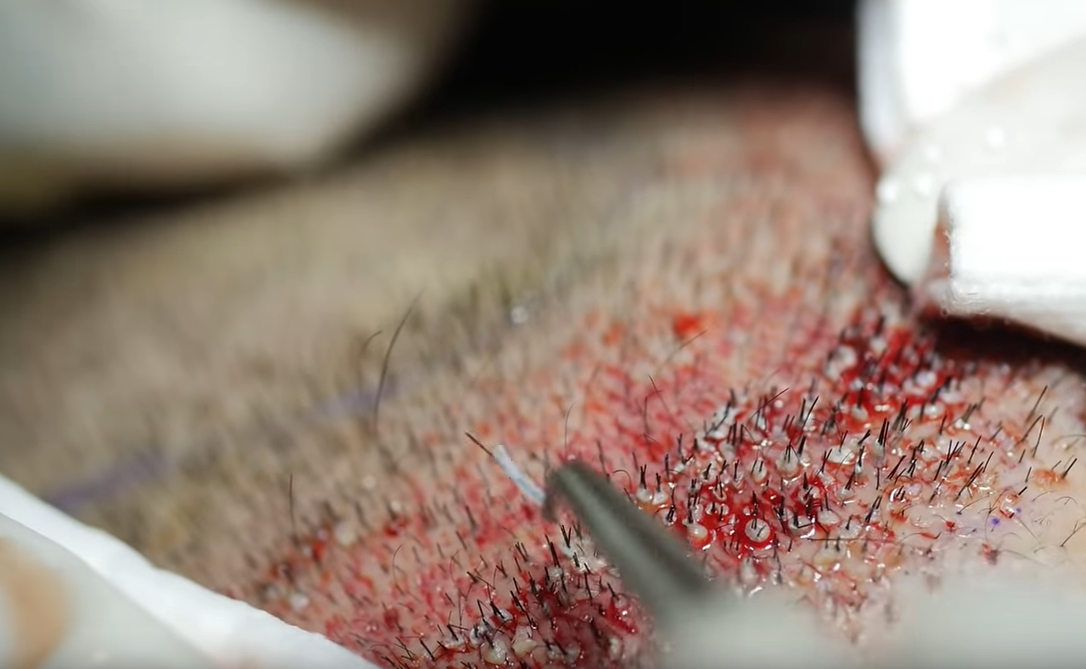 Hair Restoration Procedure Drawbacks
In all cases, hair transplants may not be able to give the fullness of hair that once existed before the balding occurred. However, the improvement from such a procedure may be able to offer you results that are substantial enough to improve the way you feel about your appearance. It should be noted that hair transplants do not have the same effect on everyone. In some cases the re-established hair follicles will not take which will result in no improvements for hair coverage.
Finding A Good Surgeon
It is very important when deciding to go ahead with hair transplant surgery that you choose a qualified and experienced surgeon. Below are some tips to consider when making this choice.
Read Up On Testimonials
One of the best ways to gain a bit of insight on good surgeons is to read up on the experiences of other individuals who have recently undergone a hair transplant procedure. These testimonials can reassure you of your decision to undertake hair restoration surgery, whilst also making it an informed one.
Choose The Procedure That Is Right For You
Discuss all your options with your surgeon before deciding on the procedure that will suit your budget and your needs. A qualified surgeon will be able to give you honest advice on whether this type of surgery can work for you.
How We Can Help
The Hair Loss Advisor will help you find the right surgeon for you. The surgeons and clinics we have listed are top rated in their field, arranged by city/state/country. All of the hair restoration surgeons you will find on our website are highly qualified with years of experience, and are more than happy to provide you with their previous patients' testimonials.
Still have questions? Read our hair transplant FAQ here!