Just so you know right off the bat: Super Million Hair does not claim to regrow any of your lost hair. Instead of expecting Super Million Hair to work that miracle, think of it this way: Super Million Hair is like a step up from spray on hair, and a lot better than a toupee. It works instantly to make your hair appear to be thicker and healthier. Read our full Super Million Hair Review here!
Super Million Hair Review
Super Million Hair works in a really simple way. It's made of a natural fiber specially processed and cut into tiny pieces (think teeny pieces of fake hair). You sprinkle it onto your head, and static electricity helps it adhere to your existing hair, no matter how thin it may be, and voila! You have a head of thick, authentic looking hair right away! The Super Million Hair company recognizes the cosmetic grief that comes with thinning hair, and this product is made to ease that discomfort and help you feel confident and still kicking.
Offer
You find the color of Super Million Hair that matches your own hair, and then you simply sprinkle the product onto your thinning hair area. The tiny pieces of natural fiber attach to your hair through static electricity, and, according to Super Million Hair, will stay put through wind, rain, and exercise.
Some other appealing features: since it is completely natural, Super Million Hair will not cause any negative reactions and can be used at the same time as any other hair loss treatments you might be using. There is nothing that will stain or leave a mark, including on your clothes and skin. It comes out easily with a shampoo rinse.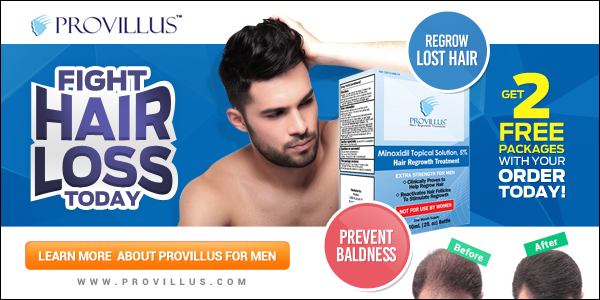 Using Super Million Hair
First, wash and dry your hair. Super Million Hair will look more natural if you refrain from using hair tonics, but if you really want to, you should at least wait until your hair is dry before applying hair tonics.
Next, sprinkle Super Million Hair over your thinning hair area. Use a hand mirror to check and make sure you've covered every area you want to. Run your hand through your hair gently to help the fibers scatter evenly in your hair.
For a super hold, you can spray on Super Million Hair Mist. Spray from 15cm away about seven or eight times.
Super Million Hair comes in several colors to match your hair, for example: black, dark brown, light brown, dark blonde, gray, and white.
Effectiveness of Super Million Hair
Most of the user reviews for Super Million Hair are very positive, although most people mention that the holding hair mist is a requirement if you want the Super Million Hair to stay put and not clump up.
Conclusion
Super Million Hair apparently does what it says it will do. So if you believe in the "fake it till you make" theory, this might be a great product for you. However, it seems like Super Million Hair really needs to be sold alongside the Super Million Hair Mist. Most users who like the product say they use it in conjunction with the mist. In the end, this is a non-irritating way to fool everyone into thinking you have thicker hair than you actually do!
Offer
Super Million Hair Spray Mist Review
If you're reading this, you've probably heard of Super Million Hair. If not, though, here's a quick run down: Super Million Hair is a product made to cover up thinning hair. It is made of natural fibers—essentially, it's tiny bits of fake hair. When you sprinkle it on your head, the fibers attach themselves to your own hair and give the appearance of a full head of hair.
The user reviews for Super Million Hair are overwhelmingly positive, but the users do have a couple of tips for those investing in the product and brand. The biggest tip is to use Super Million Hair in conjunction with Super Million Hair Spray Mist. The mist performs the very important (as you can probably imagine!) task of keeping the Super Million Hair in place long after you've applied it.
So imagine this: you wake up, wash and dry your hair, sprinkle on your Super Million Hair, and then top it all off with an application of Super Million Hair Spray Mist. After that, you're free to go on with your day—be it windy, rainy, or otherwise. You can play sports, go to the beach, whatever, without worrying about whether your hair—real or fake—is going to fall out.
Product Ingredients
The complete list of active ingredients in Super Million Hair Spray Mist is not provided, but there are a few details about significant ingredients that are worth reading:
Super Million Hair Spray Mist contains Hinokitiol, which the component that promotes hair growth. It also helps prevent itching and other skin reactions by helping increase blood circulation.
Super Million Hair Spray Mist also contains a special resin that provides a nice, firm hold but doesn't make your hair look or feel stiff and crusty. Resin also makes your hair shiny.
The combined ingredients helps Super Million Hair Spray Mist do its job of holding your hair in place and holding Super Million Hair in place when you're using it. It also protects your hair from ultra violet rays.
Another aspect of Super Million Hair Spray Mist that appeals to users is the fact that it doesn't contain gas. It is safe in terms of health and in terms of environment, so you can use it without anxiety or guilt.
Using Super Million Hair Spray Mist
First, apply Super Million Hair to your head. Once you're satisfied, take your bottle of Super Million Hair Spray Mist and hold it about 15cm from your hair. Just take some small, short sprays. You can feel free to reapply throughout the day whenever you need to.
Product Warning
Avoid getting in eyes. If eye contact occurs, rinse with water. Contents Flammable! Do not use near flame or while smoking. Avoid spraying near nose or mouth. Keep out of reach of children.
Cost of Product
Super Million Hair Spray Mist costs $18.99 for a bottle containing 5.82 oz (165 ml).
Effectiveness of Super Million Hair Spray Mist
Users are generally satisfied with Super Million Hair Spray Mist. They mostly comment positively about the product's success at long-lasting hold for hair with natural fiber supplements. Users have found they can count on the spray to hold their natural fibers in place even when swimming. Even sleeping on the spray results in minimum loss of the natural fibers.
Conclusion
While the high price and the marketing (advertising Super Million Hair as working best only WITH Super Million Hair Spray Mist) are a bit of a turn off, it is true that most customers express satisfaction with the spray's effectiveness. If you're willing to invest the money in these two products, chances seem to be you'll be happy with the results.
Hopefully our Super Million Hair review helped you on your decicion on whether to buy these hair fibers or not. In our opinion they are definitely one of the better products out there. Have you used SMH before? Let us know!
Offer